Green Hosting. Green Websites.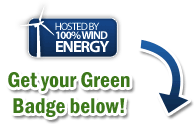 Our energy use in our offices and data centers is now offset 100% with wind energy!
You can be proud that the machines hosting your website and email are eco-friendly, which makes you eligible for our Green Certificate included with the Netfirms Green Badge.
How It Works
Since generating wind energy on site isn't feasible, we're offsetting all of our electricity use with wind-generated Renewable Energy Certificates (RECs). We are purchasing enough RECs to overcompensate for our energy use by 100%, preventing 3,764 metric tons of carbon dioxide from entering the atmosphere.
That figure is staggering when you consider the estimated yearly benefit to the environment is equivalent to any one of the following:
This commitment will allow 10,917,305 kWh of wind energy to enter into the national electricity grid from 7/1/2011 until 6/30/2013.*
Green-Certify Your Website
The Netfirms Green Badge is the perfect way to start a green marketing campaign. Simply download a badge and add it to your homepage. Our Netfirms Green Certificate is displayed when visitors click on the badge, verifying that your website is entirely powered by renewable energy.
Promoting your site as green enhances appeal and helps increase traffic. Get started with our FREE Green Badges and Certificates, today.
*Contract initiated 2011, renewing in 2013.
---