Netfirms is working with Facebook to help small businesses
reach out to their target market.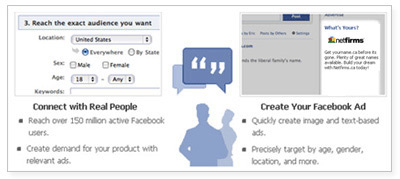 Connect with millions of possible clients worldwide
With Facebook Ads you are in control of your ad campaign. This valuable credit allows you to experience advertising on the largest social-networking website.
Reach Your Target Market With Ease
Netfirms customers will be able to reach out to a new wave of customers in their target market by taking advantage of the rich targeting Facebook Ads offer, such as: geographical location, gender, age group, orientation, education level, current relationship status, workplace and keywords.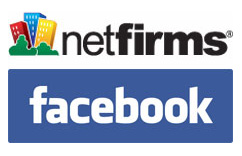 Key Benefits
Cost effective
Connect with over 350 million Facebook users worldwide
Target your specific market by geographical region, age and gender
Pay for Clicks - charged by the amount of users who click on your ad or
Pay for Views - charged by the amount of impressions your ad receives
Select keywords to help identify Facebook users in your target market
How To Obtain:
To obtain your free Facebook Ads credit you must be subscribed to one of Netfirms' hosting plans. To activate your Ads credit, please login to the control panel and click on the Facebook Ads link.
$1.00 activation fee is charged separately.
This offer is valid only for sign ups using the code or URL link received upon purchase of a Netfirms Plus, Advantage, Business or Enterprise hosting plans.
Facebook is a trademark of Facebook, Inc